What is an IT strategy and why do you need one? At its most basic, an IT strategy is a plan for managing and optimising the software, hardware and services that keep your firm operating. It is essentially an operational blueprint that determines productivity, and therefore directly impacts your firm's ability to generate revenue.
Plenty of businesses don't have an IT strategy, just as many businesses don't have a business plan. Without plans and goals, a business will under-perform. This is true for financial and operational performance equally.
Technology today is fundamental to survival and success. The building blocks are summarised in six areas:
Applications and productivity
⦿ What is the right mix of business apps for your firm based on your
current workflow and resource constraints?

⦿ How can your team use apps in the best way to maximise productivity
and get the most value from them?

⦿ Are there new efficiencies you're under-utilising or not hearing about?


Training and Support
⦿ Are there specific recurring issues causing frustration to staff?

⦿ Is your team using software and integrations in the most effective way?

⦿ Are there workflow bottlenecks slowing your firm down that
technology could automate?


Hardware
⦿ What are the right laptops, workstations and other hardware that staff
need to complete their tasks efficiently from anywhere?

⦿ What backup solutions do you need to provide insurance against and
recover from data loss, breaches, or accidental deletion?


Network and connectivity
⦿ What is the optimal internet connection for your firm?

⦿ What is the best way to set up your internal network for speed and
security?


Security
⦿ How can you protect your systems and staff from malware,
ransomware and other online threats?

⦿ Are your insurances valid to protect your firm against an internal or
client ransomware infection?

⦿ Do you have the right IT policy to limit liability in the event your
clients' data is breached?


IT Cost
⦿ Have you reviewed your monthly services and subscriptions in the
last two years to ensure you're taking advantage of the 'Moore's Law'
technology price reduction that the cloud has presented?

⦿ Are you still being charged services for legacy server and
infrastructure complexity that is no longer relevant?


These pillars are the building blocks for running a business. While critical elements of IT, these are not strategic objectives. A managing partner is not going to know or care about picking the best internet connection.
They will, however, care about three things –the optimal operation of the firm, how it can improve its operations, and how it can position itself to scale, either organically or through M&A.
These objectives can be expressed as:
Continuity – Does the firm have the resources to continue operating? This includes hardware, software, internet and network, security, and backup.
Continuous improvement – How can the firm improve its use of technology? This covers the ongoing training on new software features across the firm's application stack.
Positioning for growth – How does the firm prepare itself for long term growth? This encompasses ongoing assessment and introduction of new hardware and software, and ongoing review of workflows.
Your IT services provider should advise you in each of these three areas. If they don't want to, then consider looking for one that will. It's far better to create and follow an IT strategy that is supported by your IT services provider. After all, if technology is their domain, why aren't they a key part of setting the direction?
If your traditional IT service provider is charging you a five figure sum per year just to run your server, they are giving you a service that's more than a decade old and barely relevant to a modern firm. It's a survival strategy, not one to help you grow your business.
And it also means your IT service provider is not involved in setting the key objectives for your IT strategy. It's like a business owner deciding how they will pay their taxes without input from their accountant.
The perfect test – will they support your move to the cloud?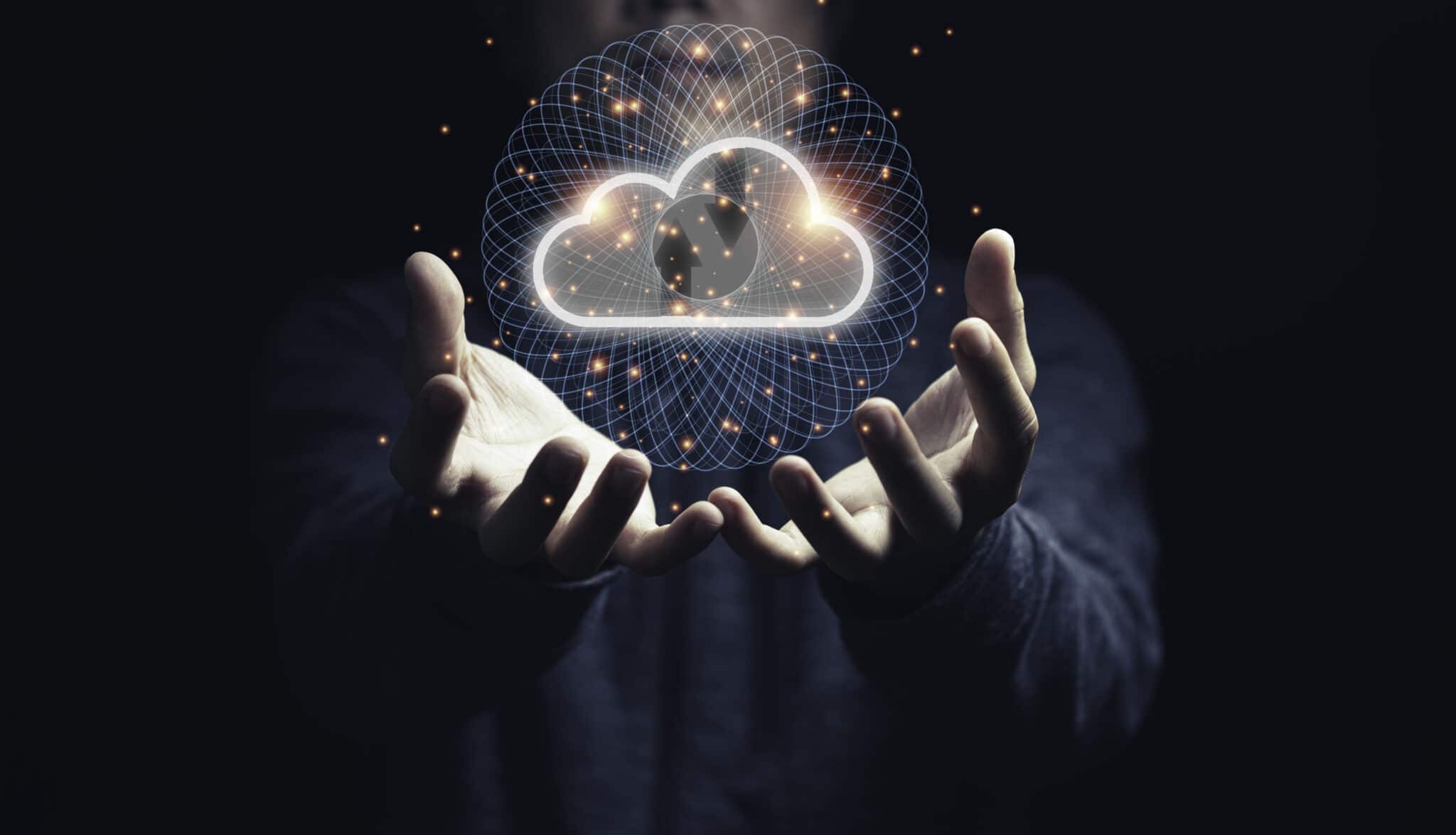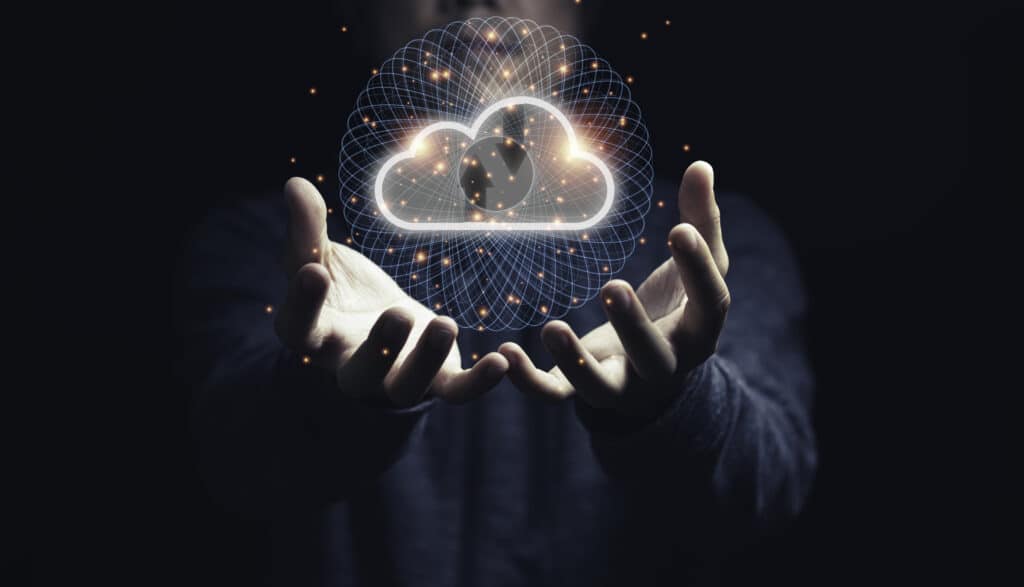 Business software is on a one-way trip to the cloud. Every software vendor from Oracle to Microsoft is moving SMEs to browser-based software. There are many benefits; no need to buy and run a server yourself, and with it all the responsibility of backing up data and managing an expensive piece of hardware.
The ultimate test for your IT services provider is whether they are willing to help you in that journey.
Sometimes this journey will include changing your most important software, your practice management suite. Not every software company is moving to the cloud at the same pace, meaning that some firms are jumping ship from their traditional server-based software's to new cloud-based alternatives.
Your IT service provider should at least be willing to have the conversation about moving to the cloud and how to best manage the transition. If your IT service provider is only interested in running a server – which may, in fact, be the best decision for your firm right now – then they are failing to keep you informed of all the options and potential benefits.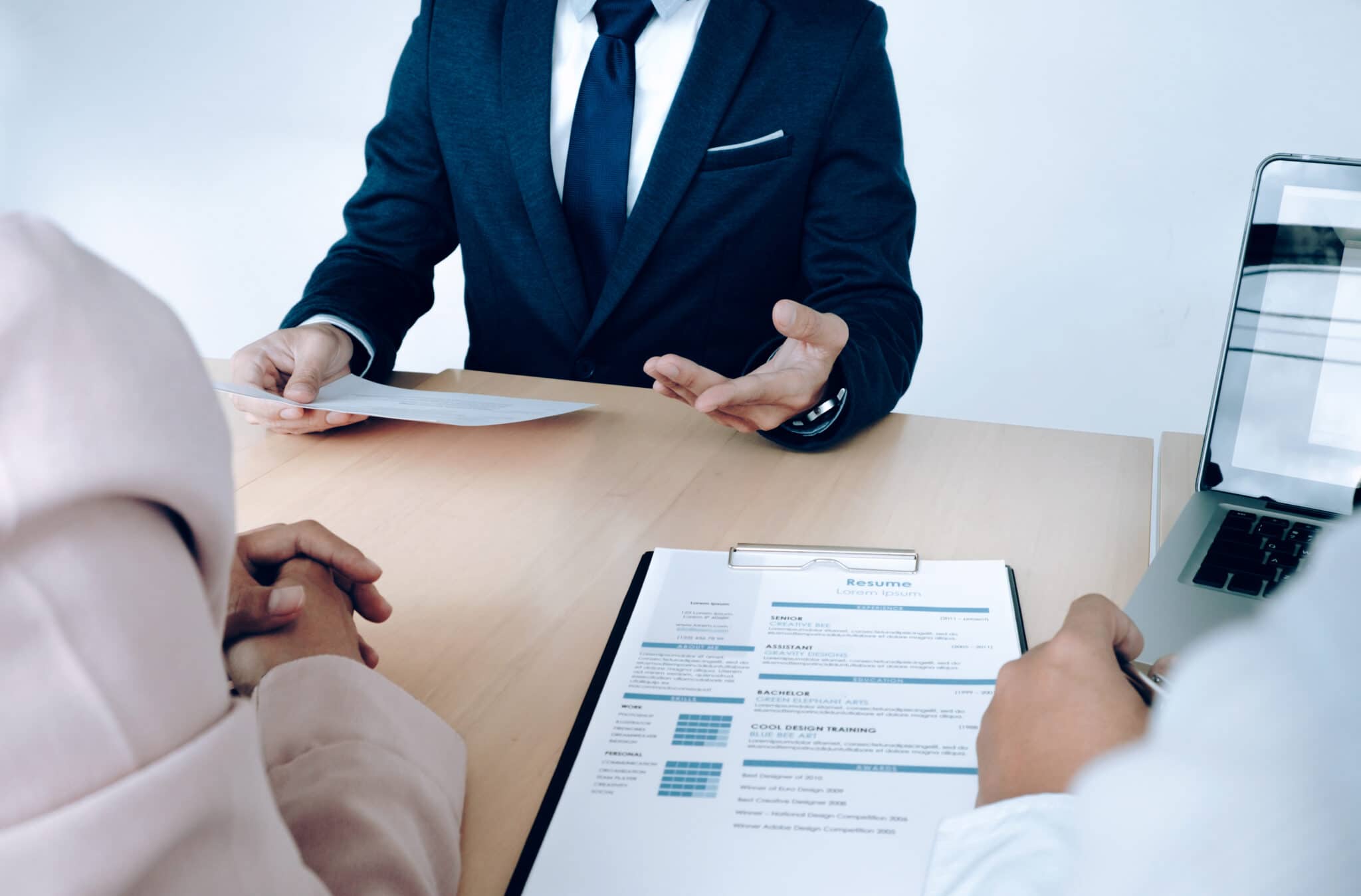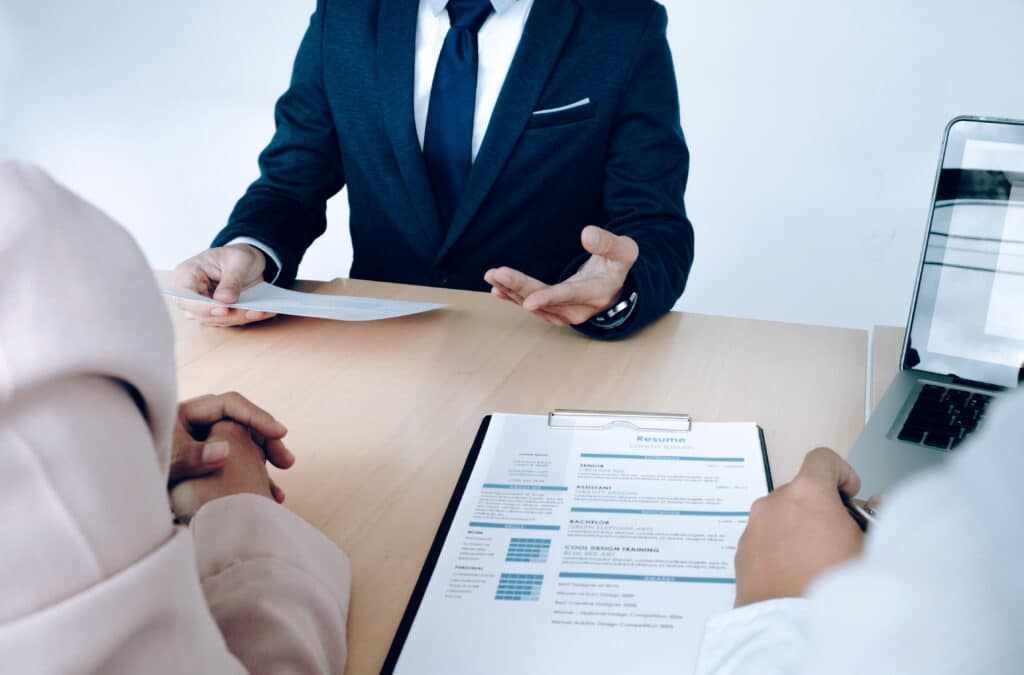 Every firm's needs are different. An IT strategy shouldn't just be a copy and paste from the previous customer. Not only are technical setups different, but just as importantly, so are attitudes to technology.
One firm may have eager staff who love to try new things. Another firm may have highly experienced staff who have invested in developing a set of best practices. An IT strategy, planned over three years, will take into account the human experience and not just the technical requirements.
Take a look at the examples of three firms and their IT strategies below.
Firm #1 – Queensland, 10 Team Members
This 10 person firm in Queensland ran its own server and wanted to move to the cloud – but at a gradual pace. Its IT strategy focused on shoring up existing resources, and staging a transition to the cloud over three years.
The firm determined how it wanted to operate over those three years, the required tools and the points of transition.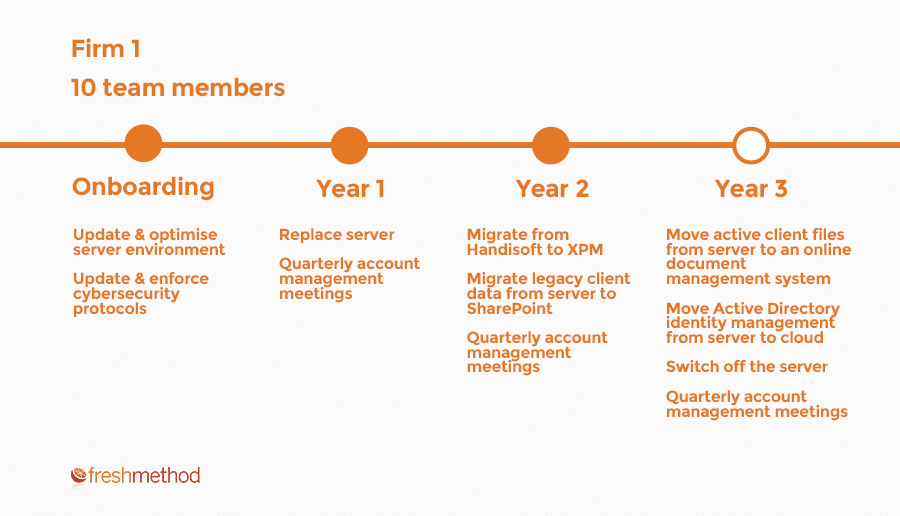 Onboarding phase
Update and optimise server environment
Update and enforce cybersecurity protocols
The firm was suffering ongoing speed issues with its server. The diagnosis was simple; the server hadn't been updated in some time. Once the updates were installed, the server improved its performance.
The firm also needed to set up a base level of security. This included antivirus, email protection and Practice Protect security software.
Year One
Replace server
Quarterly account management meetings
The first year's priority was to migrate to a new server as the existing one was in its final year of warranty.
The firm's managing partner understood that the move to cloud software was inevitable, in line with trends within the accounting profession. However, the firm wanted to stagger the process to minimise disruption and manage change among staff.
Account management meetings every quarter gave the partner the ability to review the speed of transition to the cloud, discuss options and plan the server migration.
Year Two
Migrate from Handisoft to Xero Practice Manager
Migrate legacy client data from server to SharePoint
Quarterly account management meetings
The second year marked the first stage of the transition to cloud. This centred on swapping over the firm's practice management software from the server-based Handisoft to the cloud-based Xero Practice Manager.
Changing the line-of-business tool is always a major commitment. The technical migration is typically easier than retraining staff if they have used a single system for many years.
The key to a smooth transition, with minimal impact on firm productivity, is to ease into the change. The firm kept active client files on its server and migrated only legacy client data to SharePoint Online, the file management system for the cloud-based productivity suite Microsoft 365.
Year Three
Move active client files from server to an online document management system
Move Active Directory identity management from server to cloud
Switch off the server
Quarterly account management meetings
The third year will mark the final step to a cloud-based business. By this stage the firm will have experience at managing client files in SharePoint Online. It will either move its active client files to Sharepoint Online or to an online document management platform designed specifically for accounting firms. Options include SuiteFiles, FYI Docs or Hownow X.
The only other step, which will be invisible to staff, is to switch the identity management service, Active Directory, from the server to Microsoft 365. The firm can then switch off the server and retire it completely.
Firm #2 – Victoria, 15 Team Members
A 15-member firm in Victoria was in a very different mindset – the firm wanted to jump from servers to the cloud immediately. Also running HandiSoft, the firm was running four servers at a ratio of one server per four staff. This created unnecessary duplication, expense and management.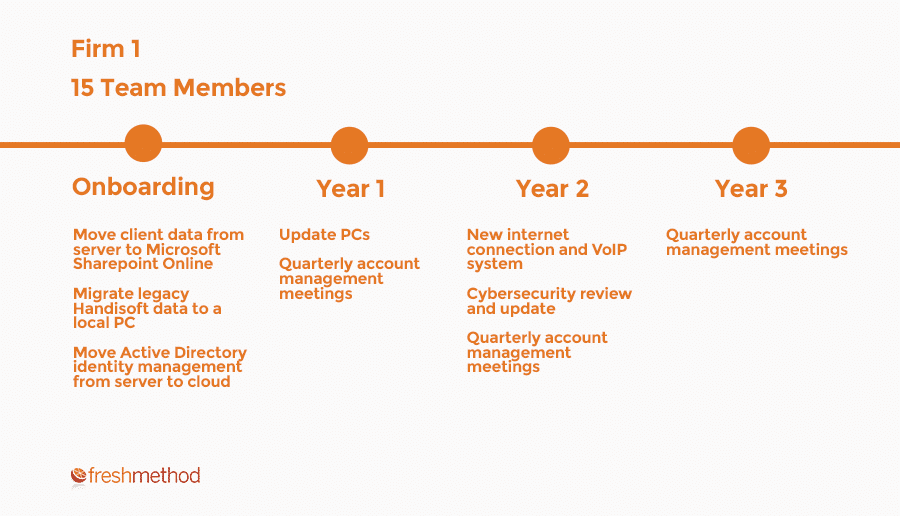 Onboarding
Move client data from server to Microsoft Sharepoint Online
Migrate legacy Handisoft data to a local PC
Move Active Directory identity management from server to cloud
The onboarding process was far more dramatic. All client data no longer sat on one of four servers, but was accessible from anywhere via SharePoint Online. A copy of Handisoft, containing all legacy data, was set up on a local PC. This effectively acted as an insurance policy if a staff member couldn't find something in SharePoint.
After switching the identity management service to the cloud, the firm could switch off all four servers and immediately reduce its ongoing maintenance costs and security risks.
Year One
Update PCs
Quarterly account management meetings
After retiring all servers within the onboarding stage, the firm could look for ways to tweak productivity. All PCs were out of warranty, and so the first year of the strategy ensured that staff were using the best equipment.
Year Two
New internet connection and VoIP system
Cybersecurity review and update
Quarterly account management meetings
With more reliance on the internet, the firm decided to move to a faster, more robust internet connection. The cost of high-grade internet has plummeted since the rollout of the NBN, and many firms need to review their contracts.
Faster, more reliable internet connections support high-performance phone systems (VoIP). Again, many firms are stuck on expensive legacy contracts with high call charges.
Firms need to constantly prepare against cyber attacks. The firm rolled out an online cyber security training program to reduce risky behaviour by staff.
Year Three
Quarterly account management meetings
Three years into the IT strategy, the firm has successfully transformed itself into a lean, highly productive operation. The firm checks in with its IT service provider each quarter to review opportunities to improve performance.
Firm #3 – South Australia, 20 Team Members
This South Australian firm, led by a pair of tech-savvy partners, had grown to 20 staff without any IT support. The firm was running the cloud-based productivity suite Google Workspace (formerly G Suite and Google Apps), and now wanted to move to Microsoft 365.
The firm were experiencing limitations with GSuite as the team grew and wanted to move to Microsoft 365 to help them as they scaled.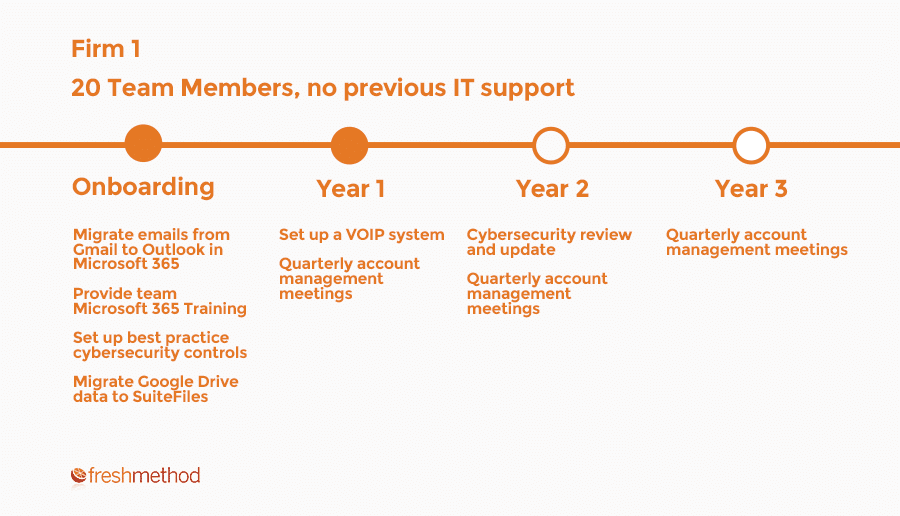 Onboarding
Migrate emails from Gmail to Outlook in Microsoft 365
Provide team Microsoft 365 Training
Set up best practice cybersecurity controls
Migrate Google Drive data to SuiteFiles
The logistics for moving from one cloud platform to another are relatively easier than moving from the server to the cloud. The main challenge is helping staff get up to speed on the new interface and processes as quickly as possible.
The onboarding process focused on transitioning data – emails from Gmail to Outlook, and company files from Google Drive to SuiteFiles – and training staff on Microsoft 365.
Year One
Setup a VoIP system
Quarterly account management meetings
At 20 staff, the firm needed to centralise its processes. Employees had used their mobile phones to respond to clients, and didn't have a main office number. The firm selected a business-grade VoIP system and assigned extensions to each employee.
Year Two
Cybersecurity review and update
Quarterly account management meetings
One year into the IT strategy, and the focus swings from productivity to risk management. Staff will have had a year to familiarise themselves with Microsoft 365 and SuiteFiles; now they will train on identifying security threats.
Year Three
Quarterly account management meetings
The third year of the IT strategy is clear for reviewing new opportunities to improve productivity. It is a good idea to reduce disruption after a major change, such as switching a practice management or productivity suite. Even a progressive firm with a large appetite for new technology doesn't need to change for change's sake.
---
The above examples show that an IT strategy can move at a speed that is comfortable to the firm. The pace of change is less important than the knowledge that an expert has oversight of the firm's productivity engine.
Do you have an IT strategy? How involved is your IT service provider in helping you set your strategy? Do you know how your firm is performing compared to others?
Many businesses ignore IT, even though it is the primary driver for productivity. But as the saying goes, failing to plan is planning to fail. Ask your IT service provider today what they can do to help you set your IT strategy.